Almost 100 Confirmed Dead in Tragic Maui Wildfires
4 months ago
The tragedy that has struck Maui has left not only the city and businesses heartbroken, but also residents and family members as the death toll continues to rise.
There have been 96 confirmed deaths from the Maui wildfires so far, and firefighters and rescue crews continue to search through the ash and rubble for survivors. There are still many people unaccounted for, and families can do nothing but sit, wait, and hope for the best.
What Started as a Wildfire
The wildfires in Maui started spreading on Tuesday, August 8th, fueled by the winds from Hurricane Dora. The flames spread at a speed that destroyed homes and businesses and overwhelmed firefighters.
Hawaii Governor, Josh Green, stated in a news conference, "This is the largest natural disaster we've ever experienced. It's going to also be a natural disaster that's going to take an incredible amount of time to recover from."
As crews work their hardest to find missing persons and survivors, they're also still working to fight the fire. Although they have made progress containing the three largest wildfires, the fire in Lahaina - the deadliest one - is still burning. This fire destroyed Front Street, which is the biggest business street in Lahaina, and the damage done is insurmountable.
On Monday before the fires started, the weather service issued a "red flag warning" for the dry conditions, strong winds, and low humidity could make for the perfect storm. By Tuesday afternoon, the flames were not only burning but traveling a mile every minute. It didn't take long for the wildfire to reach peoples' homes and backyards and force thousands to evacuate. As of Friday night, over 1,400 people were at emergency evacuation shelters.
Warning Sirens Went Silent
As the fires continued to spread into neighborhoods, the warning sirens were not activated.
There are several factors that may have caused this to happen, but the Governor did his best to respond, "There were multiple fires at the same time, and the circumstance was greatly complicated also by the heat and the speed with which the fire spread, destroying a great deal of infrastructure."
He also added that, in time, they'll be able to figure out if and how they could have better protected people.
Hawaii's main electric provider is currently facing a lawsuit that claims the electrified power lines that were blown over by strong winds helped to cause the wildfires.
The complaint states: "By failing to shut off the power during these dangerous fire conditions, Defendants caused loss of life, serious injuries, destruction of hundreds of homes and businesses, displacement of thousands of people, and damage to many of Hawai'i's historic and cultural sites."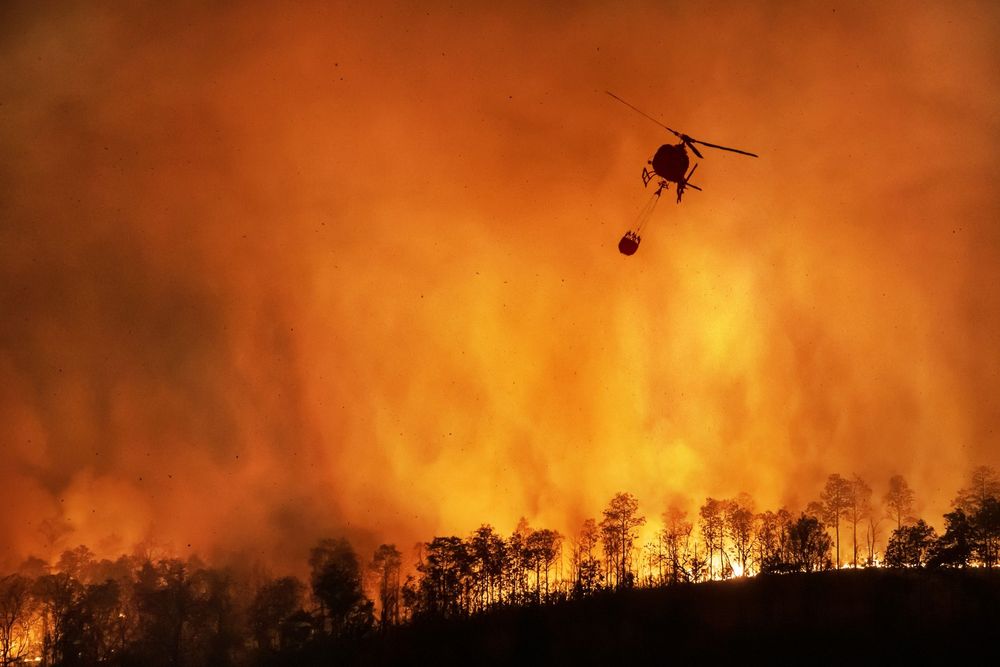 The Damage Done
When lives have been lost in the tragic Maui wildfires, it can be hard to put a number on the destruction. However, 2,200 structures have been destroyed or damaged in the fire resulting in an estimated $8 to $10 billion in total damage.
The historic town of Lahaina, a frequented tourist area, has been destroyed.
"It is going to take many years to rebuild Lahaina. When you see the full extent of the destruction of Lahaina, it will shock you," Green stated.
Along with businesses, homes have also been destroyed. The Governor has ensured that hard work is being done to put people into temporary housing. Over 500 hotel rooms have been reserved with government subsidies, and Airbnb will be offering the town hundreds of rentals to help place people long-term.
What Can You Do to Help
The Maui wildfires have been deemed Hawaii's worst natural disaster on record, and around 80% of Lahaina has been destroyed. Celebrities like Jeff Bezos are doing their part to donate money to help fund the disaster relief, and you can help too.
The American Red Cross Maui Chapter is accepting monetary donations online specifically for the wildfires.
Maui United Way is accepting monetary donations to Maui Fire and Disaster Relief Donation page which will go directly to families and nonprofits directly affected.
The Maui Food Bank website is accepting monetary donations.
Virginia-based disaster relief and humanitarian aid organization, Mercy Chefs, are in Maui and have partnered with local churches to offer meals and resources to those affected as well as first responders and volunteers. You can donate on their website.
Maui Humane Society is accepting monetary donations online to provide supplies and emergency kits to shelters.
---