California Braces for Impact as Hurricane Hilary is Set to Make Landfall Sunday
3 months ago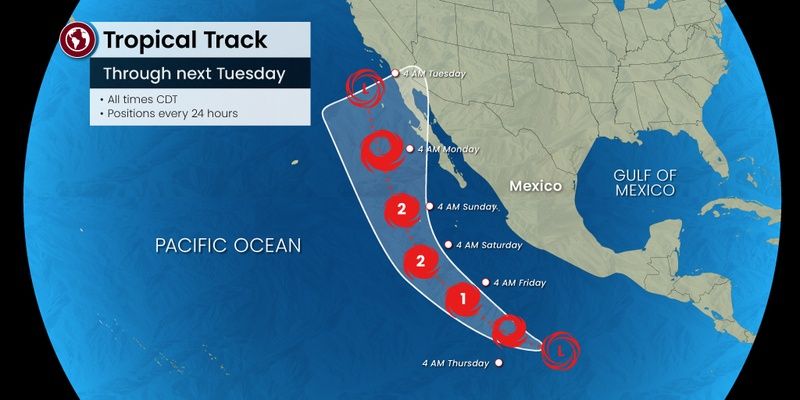 As Hurricane Hilary continues to churn in the Pacific Ocean, the residents of California are bracing themselves for what meteorologists are calling a potentially catastrophic event to hit the state around noon on Sunday, August 20th.
With the storm rapidly gaining strength, authorities have initiated widespread evacuations along the coastline and are closely monitoring its path. Here's the latest update on Hurricane Hilary and the evacuation efforts in California.
Hurricane Hilary's Current Status
As of the latest update from the National Hurricane Center (NHC), Hurricane Hilary is now classified as a Category 4 hurricane on the Saffir-Simpson Hurricane Wind Scale. It has maximum sustained winds of approximately 140 mph (225 km/h) and is located about 350 miles (563 km) southwest of Los Angeles, California.
The storm has been steadily intensifying over the past few days and is expected to continue to strengthen as it inches closer to the California coast. Experts are particularly concerned about the potential for life-threatening storm surges, heavy rainfall, and strong winds.
California Governor, Gavin Newsom, issued a state of emergency Saturday for a large part of Southern California to help support hurricane response and recovery efforts.
The threat has triggered California's first ever tropical storm warning extending from the southern border to just north of Los Angeles. Hilary is also expected to be "the wettest tropical cyclone in state history," according to the California governor's office.
If Hilary hits landfall in California as a tropical storm, it would be the first such storm to do so in the state in nearly 84 years, according to data from the National Oceanic and Atmospheric Administration.
California's Evacuation Efforts
Given the imminent threat posed by Hurricane Hilary, authorities in California have issued mandatory evacuation orders for coastal communities. These orders are in place to ensure the safety of residents and minimize the risk of casualties.
Evacuation zones have been clearly defined, and residents are urged to heed these orders promptly.
San Bernardino County sheriff's officials issued evacuation warnings for the Oak Glen, Forest Falls, Mountain Home Village, Angelus Oaks and Northeast Yucaipa regions due to major flooding concerns.
Emergency shelters have been set up in inland areas to accommodate evacuees. The state government, in coordination with local agencies, has also arranged transportation for those who need assistance in evacuating, including the elderly and individuals with disabilities.
Preparing for Hurricane Hilary
While authorities are doing their utmost to safeguard the population, it is crucial for residents to take proactive steps to prepare for Hurricane Hilary. Here are some essential tips:
Follow Evacuation Orders: If you are in an evacuation zone, leave immediately. Do not wait until the last minute, as conditions can deteriorate rapidly.
Gather Supplies: Ensure you have a sufficient supply of non-perishable food, water, medications, and other essentials to last several days.
Secure Your Property: Protect your home by boarding up windows, securing loose objects, and turning off utilities if advised.
Stay Informed: Keep a battery-powered radio or NOAA weather radio on hand to receive updates on the storm's progress.
Communication: Establish a family communication plan and keep your loved ones informed about your whereabouts and well-being.
Monitoring Hurricane Hilary
Meteorologists are closely tracking Hurricane Hilary's path, and updates are being provided regularly by the NHC. It's essential to stay informed through reliable sources like local news, weather apps, and official government channels.
Remember that hurricane forecasts can change, so it's crucial to stay vigilant and prepared. Safety should always be the top priority during severe weather events like Hurricane Hilary.
California is facing a significant threat from Hurricane Hilary, which has rapidly intensified into a Category 4 hurricane. Residents must take evacuation orders seriously and make preparations to safeguard their lives and property. Stay tuned to official updates, and, above all, prioritize safety during this challenging time.
---