Hawaii Hit With Wildfires, Now Tropical Storms on the Way
4 months ago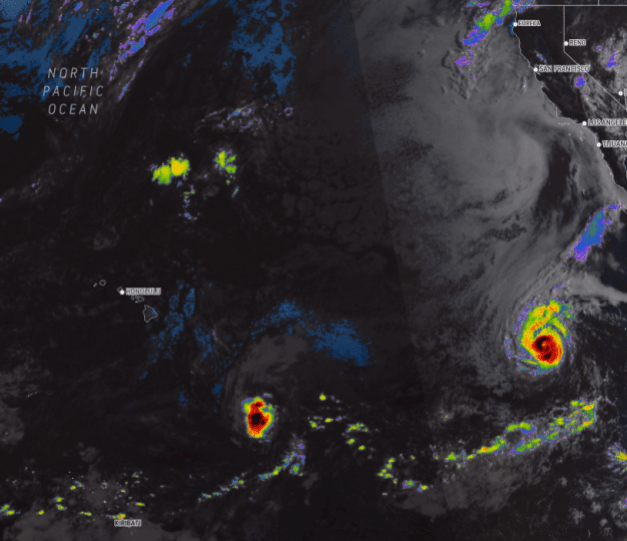 As the state of Hawaii as a whole is grappling with the wildfire tragedy that has struck Maui, a tropical storm and a hurricane are brewing close to the islands. Seeing as the winds from Hurricane Dora helped to spread the flames of the wildfires, forecasters are keeping a close eye on the development.
Tropical Storm Greg
In the Central Pacific on Tuesday, tropical storm Greg was about 1,000 miles southeast of Hilo, Hawaii, and traveling west at 14 mph. In the next few days, Greg is expected to move south of the islands and slowly move west to northwest by the end of the week.
Forecasters are monitoring an area of high pressure that is located over the northeast Pacific Ocean. This high pressure combined with tropical storm Greg's circulation can push moderate trade winds across the islands mid to late week.
The good news is that Greg is not as intense of a storm as Dora was, and it continues to lower in intensity, so the winds will likely not affect the area too much.
However, this tropical storm is predicted to cause elevated wave heights and strong rip currents to the south-facing beaches. Because of this risk, a small craft advisory was issued for Hawaii waters through Thursday evening.
Hurricane Fernanda
Located to the southwest of Mexico and hundred of miles away from land on Tuesday, Hurricane Fernanda churned. This Category 3 hurricane, according to the Saffir-Simpson Hurricane Wind Scale, created winds of up to 110 mph. The wind field of Fernanda's hurricane-force winds extends up to 30 miles from its center as it continues to move along the East Pacific.
Fernanda is expected to lose wind intensity below that of a tropical cyclone as it continues to travel west. This weekend and into early next week, this storm is expected to pass across the Hawaiian islands, bringing heavy downpours and strong winds.
Although the extra moisture may sound like a positive, the strong winds from the remnants of Fernanda has the possibility of making the current wildfires more difficult to control.
---