Tropical Storm Philippe Develops in the Atlantic as the U.S. East Coast Recovers From Ophelia
2 months ago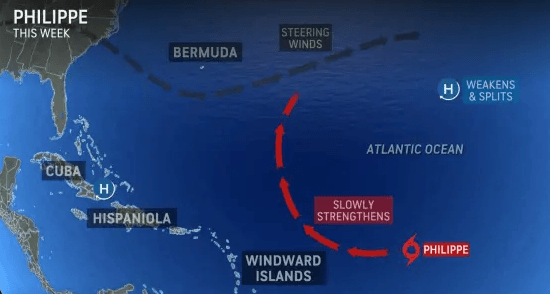 The peak of hurricane season has been busy for many areas of the U.S. East Coast, and while this coast is recovering from the wind and flooding damage of tropical storm Ophelia, more tropical activity is brewing in the Atlantic. As of Saturday, this system officially developed into a tropical storm, making Philippe the 16th named storm of the season.
Tropical Storm Philippe Develops
Last week, located about 600 miles southwest of the Cabo Verde Islands, an area of low pressure along with rain and thunderstorms were spotted by meteorologists. Forecasters had been monitoring this system and believed there was a 90% chance that it could develop into a tropical storm or even the season's next hurricane. On Saturday, this system was officially named Tropical Storm Philippe.
The storm system was expected to head west-northwest through the weekend, guided by steering winds. As of Monday morning, Philippe was holding steady in the Atlantic with sustained winds of 50 mph. Currently, the storm does not pose any threat to land, however the storm is expected to slowly strengthen over the next few days.
By the middle of next week, the storm is expected to pass north of the Leeward Islands, which would bring it to the central Atlantic by next weekend.
---