Enhance Your Lawn with the Right Landscaping Tools
8 months ago

When visitors and passers-by approach your home, the first thing they see is your lawn and garden. If your landscape lacks inspiration and appears dull, it won't reflect the true beauty of your home.
You'll miss out on the opportunity to wake up to a stunning yard every morning. Don't let that happen - choose the perfect landscaping tools to make your outdoor projects easier and more impressive than ever before.
Pruning Shears
To prevent your hedges and trees from growing in unappealing ways, regular pruning is essential. You don't want tangled bushes and unruly branches dominating your yard. Invest in the right pruning shears that can keep them neatly trimmed. Look for shears made with carbon steel or titanium coating, as they are more durable than stainless steel.
Comfort and proper fit in your hand are crucial factors to consider when purchasing shears, as you'll be using them extensively. Remember, this applies to all garden equipment.
Loppers
For larger branches, pruning shears won't suffice. You'll need loppers to handle the job. These tools have long handles, allowing you to reach higher branches and tricky spots without straining or contorting yourself uncomfortably.
While loppers are designed for cutting branches up to two inches in diameter, be cautious of your head's safety during their use. Even a slender branch can cause cuts, eye damage, or other unpleasant injuries.
Collapsible Pole Saw
Loppers have their limitations. When dealing with thicker branches and limbs, a sturdy pole saw is indispensable. This type of saw is attached to a long pole, enabling you to safely remove troublesome branches without requiring a ladder. Consider a collapsible pole saw, which can be shortened for ground use like a pruning saw.
If you anticipate tackling tough, thick branches, it may be worth investing in a powered model. Always exercise extreme caution when sawing overhead branches to avoid potential head injuries or worse.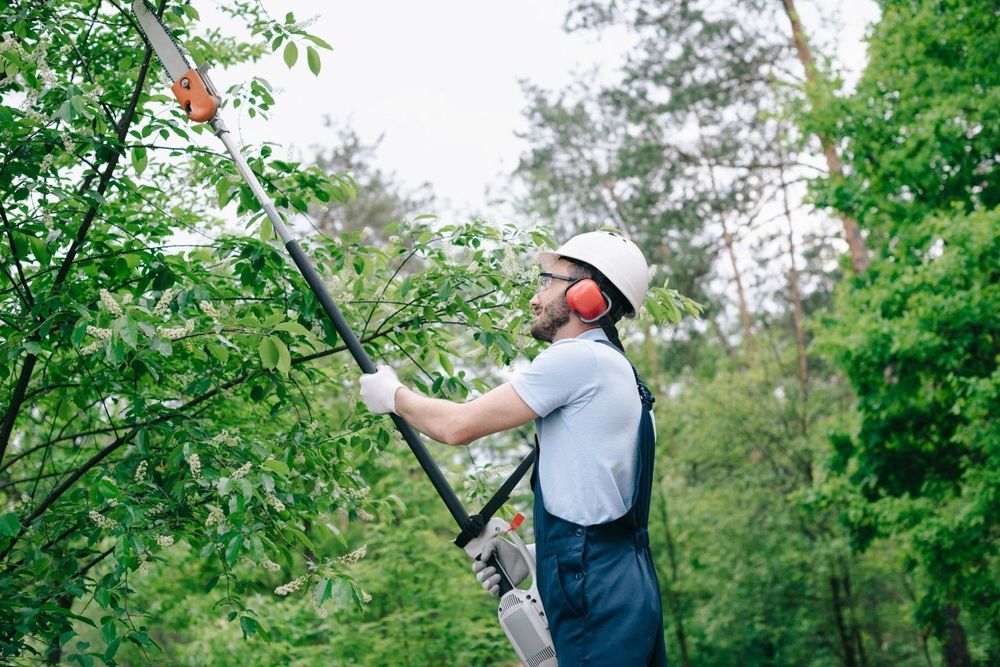 Soil Knife
For a versatile tool that can dig up soil, cut and saw small twigs and branches, and even measure soil depth, a soil knife is a must-have. This multipurpose garden tool saves you from constantly running back to the shed for different implements.
Digging Spade
Chances are, your outdoor project will involve a lot of digging. While a traditional spade may do the job, a digging spade with an extra handle and ergonomic design makes digging holes and moving soil much easier.
Opt for a digging spade made from durable materials to avoid frequent breakages. Prioritize choosing the right tool to prevent back strain and overexertion.
Spade Fork
Spread compost, hay, and other materials over your garden effectively with a spade fork. Its forks can penetrate the soil, providing the necessary aeration for your plants to thrive. Additionally, a spade fork allows you to dig up and replant flowers without damaging their delicate roots.
Trowel
A handheld shovel known as a trowel is an excellent tool for digging soil and filling pots with ease. It's particularly useful for transplanting flowers, as it enables delicate excavation around their roots. When purchasing a trowel, consider the handle's comfort and the head's shape, ensuring they align with your project requirements.
No-Kink Garden Hose
Improving your yard often requires ample watering. While a regular hose can get the job done, it's prone to kinking and damage, making it a hassle to handle. Invest in a no-kink garden hose that allows for a steady flow while watering your plants. This hose eliminates the frustration of dealing with constant kinks and ensures a more enjoyable gardening experience.
Watering Pot
Regularly hydrating your plants is vital for yard improvement. A high-quality watering pot makes it convenient to water plants located far from the hose. Look for a watering pot with a pivoting handle, which allows you to water without bending over. Consider the size of the pot, ensuring it's manageable to carry, as water can become quite heavy.
Edging Spade
An edging spade is an often underrated garden tool that shouldn't be overlooked when starting an outdoor project. Its flat blade offers precise soil penetration, making it ideal for creating clean borders when constructing new garden beds.
Reliable Wheelbarrow
For extensive outdoor projects involving moving substantial quantities of soil, hay, compost, rocks, or fertilizer, a reliable wheelbarrow is indispensable. It allows you to transport almost anything across your yard with minimal strain.
Opt for a wheelbarrow made of durable materials, avoiding flimsy options like wood. Additionally, choose a size that is manageable for easy maneuverability, as the purpose of owning a wheelbarrow is to make your tasks more convenient, not more challenging.
Investing in the right landscaping tools will not only make your outdoor projects easier but also elevate the beauty and functionality of your lawn and garden. Choose wisely, and enjoy the rewards of a well-maintained landscape.
---