Multiple Tropical Storms Disturbing the Atlantic as Franklin Prepares to Make Landfall
3 months ago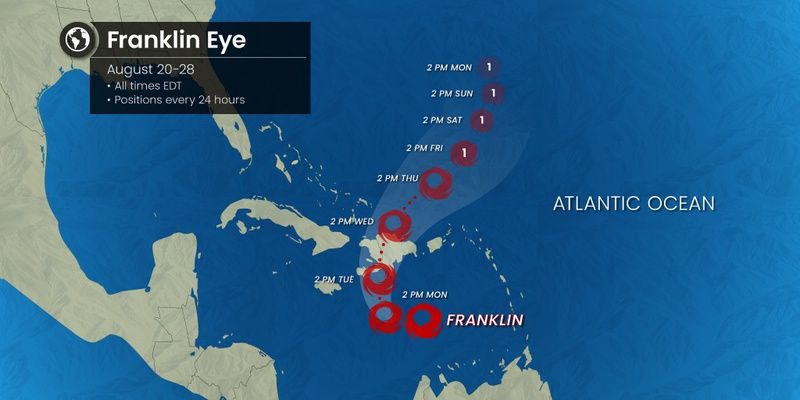 Hurricane season has been heating up in the Atlantic as forecasters are monitoring five tropical systems, two of which are expected to make landfall. In the Pacific, Tropical Storm Hilary hit the Southern US, specifically California, hard this past weekend, however these storms in the Atlantic are not expected to be as significant.
Tropical Storm Franklin
The first storm expected to make landfall in the Atlantic is Tropical Storm Franklin. This storm will bring heavy rain, flooding, and strong winds to the northern Caribbean and Puerto Rico by the middle of the week.
The Dominican Republic, Haiti, and Puerto Rico are all under fire and are at risk of life-threatening conditions from the intense rainfall.
Tropical Storm Franklin was officially named a tropical storm over the weekend as its circulation sped up and the maximum sustained winds reached 39 mph. To be classified as a tropical storm, a system must have winds between 39-73 mph.
The exact path of Franklin is not completely determined, and it has the potential to strengthen before crossing Hispaniola on Wednesday. Regardless of the strength of this storm, the heavy rain that is to come is likely to cause flash flooding, mudslides, and washouts.
Up to 12 inches of rain are expected to fall from Haiti to Puerto Rico in a span of 24 hours. As the storm itself closes in on the islands, its waves and rip currents bring along the risk of storm surge flooding. Up to six feet of storm surge is likely to occur on the southern coast of the Dominican Republic on Tuesday.
Although the largest threat of Franklin is the heavy rain and flooding, the winds are expected to be strong enough to cause property damage, knock down trees, and cause power outages.
Forecasters are warning that as Franklin develops, it could become a hurricane and residents should be prepared.
Tropical Storm Harold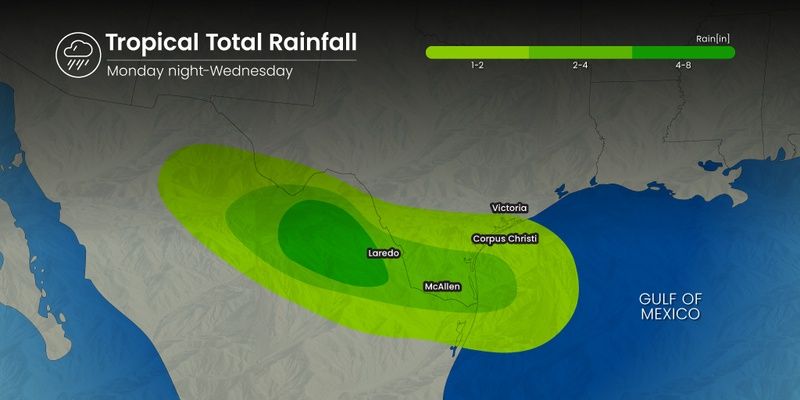 Franklin is just one of the tropical storms that forecasters are monitoring, and Tropical Storm Harold is another. Harold is more of an immediate concern for the United States as it's moving west in the Gulf of Mexico and heading straight towards the South Texas coast.
Last last week, Harold brought heavy downpours, strong winds, and thunderstorms to the Bahamas and to the Florida Peninsula this past weekend. While Harold started off as a tropical storm, the National Hurricane Center upgraded it to a tropical depression Monday evening.
Although Texas has been parched and Harold will bring much-needed moisture to the state, it also brings with it the risk of flash flooding.
Much of the rain will likely move to the northwest into western Texas, New Mexico, and possibly Arizona by the end of the week. Up to 12 inches of rain could fall over the mountains in northern Mexico and along the Rio Grande River, however one to four inches of rain will likely fall elsewhere.
Wind gusts of up to 60 mph can be expected for just north of Brownsville, Texas to Port Lavaca, Texas. Rip currents will also increase in these areas, posing a danger to swimmers in the area.
Tropical Storm Emily and Tropical Storm Gert
Yet another tropical storm, Tropical Storm Emily, formed over the weekend about halfway between Africa and the eastern islands of the Caribbean. However, Emily was short lived and lost energy by Monday night.
Like Emily, Tropical Storm Gert is expected to have a short life span. Gert formed on Sunday night, a couple hundred miles east of the northeastern island of the Caribbean. This tropical storm will weaken to a tropical rainstorm by Tuesday afternoon, but residents should still be prepared for rain showers and thunderstorms on Wednesday.
More Tropical Storms Developing
More tropical disturbances, referred to as tropical waves, are churning farther to the east off the coast of Africa. These systems have the potential to develop into a tropical depression or a tropical storm any time this week.
---