Severe Storms, Heat Wave & Flash Flooding Across U.S.
4 months ago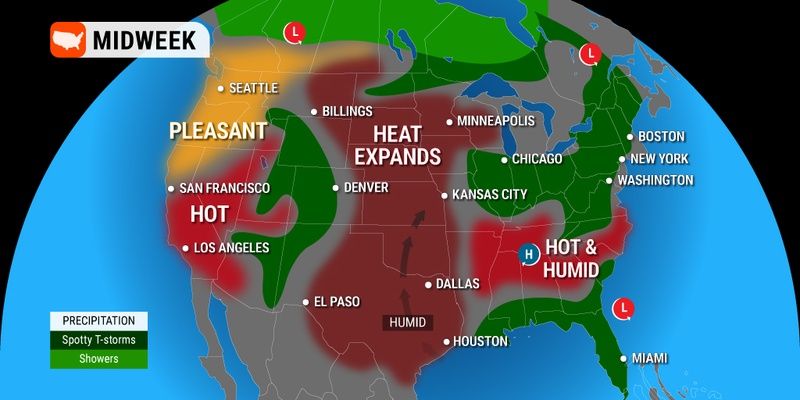 The current weather across the United States on this Wednesday afternoon and evening showcases a mix of severe thunderstorms in the Great Lakes region, scorching heat in the Southwest, and the potential for flash flooding in the Southeast.
Residents in these areas must stay informed and prepared for the weather conditions. Explore the latest updates and safety tips to navigate these weather challenges.
Severe Thunderstorms in the Great Lakes Region
A disturbance in the atmosphere is causing organized thunderstorms to develop and traverse the Great Lakes region. The Storm Prediction Center has issued an Enhanced Risk for the southern Great Lakes, indicating the potential for severe weather.
Residents in states such as Michigan, Ohio, Indiana, and Illinois should be vigilant as these storms could produce damaging winds, large hail, and isolated tornadoes. It is crucial to stay informed by listening to local weather reports and having a plan to seek shelter if necessary.
Heat Wave Continues in the Southwest
The Southwest is gripped by a relentless heat wave, with temperatures soaring above average. In Phoenix, Arizona, the high temperature is forecasted to reach a scorching 115 degrees Fahrenheit today.
This extreme heat poses significant health risks, especially for vulnerable populations. Taking precautions to protect yourself and your loved ones from heat-related illnesses is essential.
Stay indoors during the hottest parts of the day, keep hydrated, and utilize cooling methods such as fans and air conditioning. Remember to check on elderly neighbors and those without air conditioning to ensure their well-being during this heat wave.
Flash Flooding Possible in the Southeast
Heavy rain is expected to fall in parts of the Southeast today and tonight, raising the risk of flash flooding. Areas that are already saturated from recent rains are particularly susceptible to flooding.
Residents in states like Florida, Georgia, and the Carolinas should be cautious and prepared for the potential impacts of flash flooding. Avoid driving through flooded roadways, seek higher ground if necessary, and stay tuned to local weather updates and emergency alerts.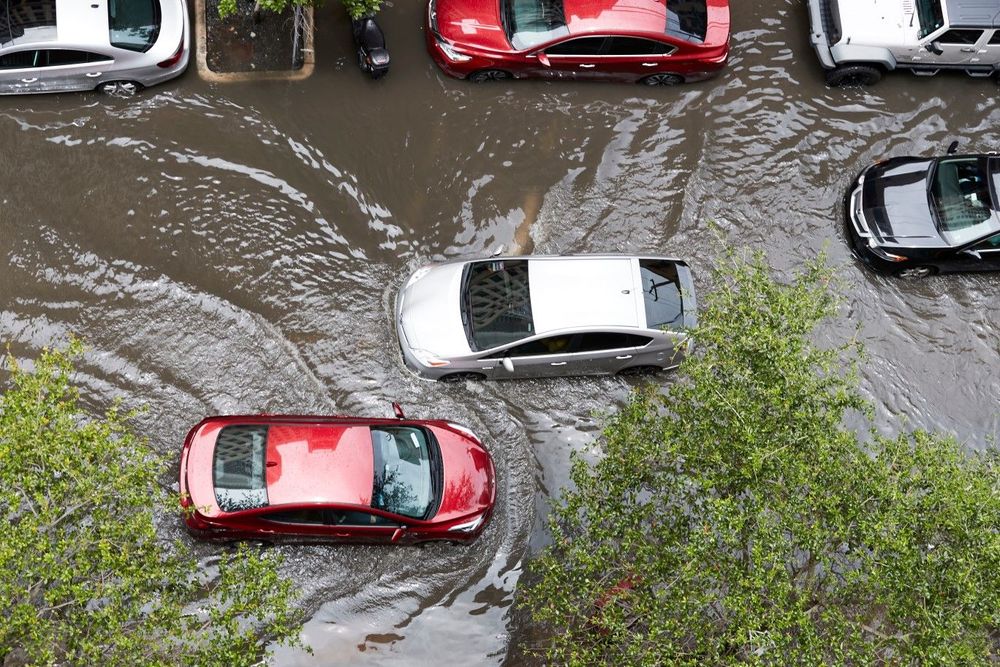 Coastal Areas: Rip Current Warnings
For those living near coastal areas, it's essential to be aware of rip current warnings. Beachgoers in states like Florida, North Carolina, and South Carolina should exercise caution while swimming in the ocean.
Rip currents are powerful currents that can pull swimmers away from the shore and pose a drowning risk. Heed the advice of lifeguards and swim only in designated areas.
Isolated Thunderstorms in the Southeast
The Southeast region is experiencing isolated thunderstorms in some areas. While these storms are not as severe as those in the Midwest, they can still bring heavy rainfall and lightning.
Stay indoors and avoid open fields, tall trees, and bodies of water during thunderstorms. Keep an eye on local weather forecasts for any updates on thunderstorm activity in your area.
Stay Informed and Prepared
As the weather can change rapidly, staying informed and prepared is crucial. Keep a battery-powered weather radio or mobile app handy to receive real-time updates and alerts from the National Weather Service.
Familiarize yourself with local emergency plans and have an emergency kit ready with essentials like water, non-perishable food, flashlights, and first-aid supplies.
---