Tropical Storm, Khanun, To Strike South Korea and Japan
4 months ago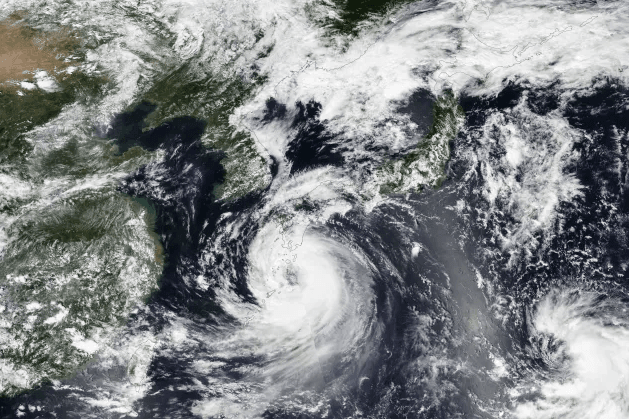 Tropical storm, Khanun, struck Japan last week, killing at least two people, and it's not done yet. The powerful typhoon is heading towards Japan once again, then will make direct landfall in South Korea later in the week.
Impacts of Khanun
Last week in Japan, Typhoon Khanun left two dead, nearly 100 people injured, and thousands without power. The storm was originally moving northwest towards China but shifted east toward Japan.
After battering Southern Japan, Khanun is making its way back as of late Tuesday evening local time. The storm was just 120 miles south of Kyushu, Japan's southernmost mainland, and hovering over smaller islands, Kikai, Amami, and Yakushima. This has prompted warnings, flight cancellations, and evacuations as residents prepare to be hit again by the tropical storm.
Japan Airlines and All Nippon Airways cancelled over 200 flights on Tuesday, bringing the total number of flights disrupted by the typhoon to 2,715 since last week.
South Korea is also bracing for the storm, issuing landslide and flood warnings, and evacuation orders. The World Scout Jamboree site, which held thousands of scouts from around the world, was just one area where individuals were forced to evacuate. Over 60,000 houses in the area were also issued evacuation orders.
The typhoon had peaked earlier this month with the equivalent power of a Category 4 hurricane but has since lost wind intensity. Although the storm has lost wind power, Khanun is still expected to produce wind gusts of up to 100 mph across southern Japan.
However, the major concerns for residents will be from heavy rain, flooding, and mudslides. Up to 16 inches of rain could fall in Ryuku on Wednesday, while up to 8 inches could fall on Thursday and Friday.
Khanun is expected to hit the southern coast of South Korea on Thursday.
Another Typhoon On the Way
While residents are preparing for Typhoon Khanun, they'll have to stay aware as another tropical storm, Lan, is expected to approach east-central Japan, including the Tokyo metro area, by early next week. Lan is expected to produce wind gusts equivalent to that of a Category 2 hurricane - up to about 110 mph.
---